This Week's U.S. War Casualties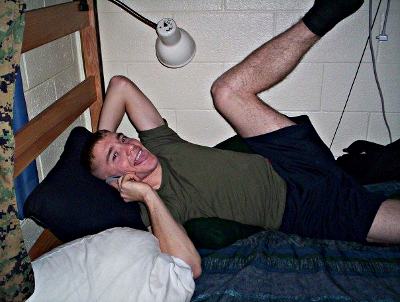 The deaths of 10 U.S. service members in Afghanistan were announced this past week by the Department of Defense.
The youngest soldier killed was Marine Cpl. Richard A. Rivera Jr., 20, of Ventura, Calif. He was killed August 10 when a new Afghan policeman was handed his weapon and immediately opened fire in the Sangin district of Helmand province. Two other Marines were also killed, Staff Sgt. Scott E. Dickinson, 29, of San Diego, Calif. and Lance Cpl. Gregory T. Buckley, 21, of Oceanside, N.Y.
On Friday, Rivera's casket was met by his family at the Naval base in Ventura County. Cpl. Rivera was a high school linebacker even though he weighed just 160 pounds at the time, his family told the Ventura County Star.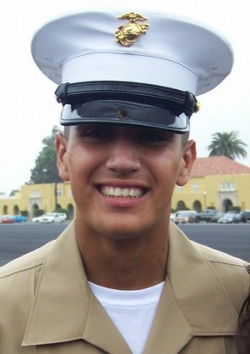 Rivera (pictured at right) was close to his grandfather, an Army veteran who served in Vietnam and gave Richard his keepsakes from his war experiences. "Deep down, Grandpa didn't want him to go," said his cousin, Brianna Rivera.
The three slain Marines all were assigned to 3rd Battalion, 8th Marine Regiment, 2nd Marine Division, II Marine Expeditionary Force.
Also on Friday, three other Marines died in a separate "green on blue" attack after reportedly sharing a meal with another Afghan policeman. Capt. Matthew P. Manoukian, 29, of Los Altos Hills, Calif.; Gunnery Sgt. Ryan Jeschke, 31, of Herndon, Va.; and Staff Sgt. Sky R. Mote, 27, of El Dorado, Calif. were killed. They served in the 1st Marine Special Operations Battalion, Camp Pendleton, Calif.
Mote posted the picture atop this blog post to his Facebook account in 2006. His friend Elyse Roques responded, "You are ALMOST as big of a dork as your brother."
The writer Evan Wright was embedded in Iraq with a battallion that included Jeschke. He quoted him in the book Generation Kill about a traumatic experience where a young Iraqi girl was killed when a car refused to stop at a roadblock and Marines opened fire. Jeschke, then 22, told the author:
"War is either glamorized -- like we kick their ass -- or the opposite -- look how horrible, we kill all these civilians. None of those people know what it's like to be there holding that weapon. After [another Marine] and I went up to that dead girl, I was surprised, because honestly, I was indifferent. It's kind of disturbed me. Now, sometimes, I think 'Am I a bad person for feeling nothing?'"
A YouTube video shows Jeschke competing in a 2008 grappling tournament in San Bernardino, Calif. (he's in the black shirt).
On Aug. 15, Pfc. Andrew J. Keller, 22, of Tigard, Ore., died in Charkh when enemy forces attacked his unit with small arms fire. He was assigned to the 1st Battalion, 503rd Infantry Regiment, 173rd Airborne Brigade Combat Team, Caserma Ederle, Vicenza, Italy.
Also on Aug. 15, Staff Sgt. Eric S. Holman, 39, of Evans City, Penn., died Aug. 15, in Ghazni province when he was hit by an improvised explosive device (IED). Holman was assigned to 192nd Ordnance Battalion, 52nd Ordnance Group, 20th Support Command, Fort Bragg, N.C.
On Aug. 16, Pfc. Michael R. Demarsico II, of North Adams, Mass., died in Panjwa'l of wounds suffered in an IED explosion. Demarsico served with the 1st Battalion, 23rd Infantry Regiment, 3rd Stryker Brigade Combat Team, Joint Base Lewis-McChord, Wash.
Add a Comment
All comments are moderated before publication. These HTML tags are permitted: <p>, <b>, <i>, <a>, and <blockquote>. This site is protected by reCAPTCHA (for which the Google Privacy Policy and Terms of Service apply).