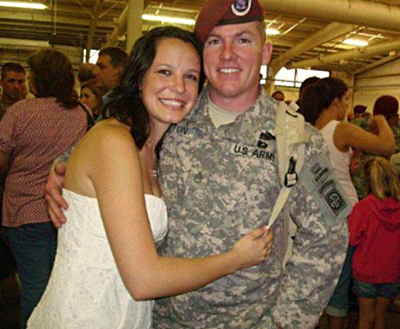 The deaths of nine U.S. service members in Afghanistan were announced this past week by the Department of Defense.
Army Staff Sgt. Matthew S. Sitton, 26, of Largo, Fla., was killed Aug. 2 in Kandahar province. Sitton, who was married and had a nine-month-old son Brodey, was on foot patrol when he stepped on an improvised explosive device, the Tampa Tribune reported.
The TV station WFLA filmed the arrival of his body at McDill Air Force Base, where his casket was met by his wife Sarah and other grieving relatives. "Every future plan that I ever had was based around him, so when I heard that news everything stopped," said Sarah (pictured above with her husband).
Sitton was the second member of a high school graduating class of 50 to die in Afghanistan. He was friends and baseball teammates at Indian Rocks Christian High School with Frank Gross, who was killed in July 2011 when an IED caused his vehicle to roll over in Khost province.
Just three months into his first deployment, Navy Petty Officer 3rd Class Clayton R. Beauchamp, of Weatherford, Texas, was killed by an improvised explosive device Aug. 7 when enemy forces attacked his unit during a dismounted patrol in the Shaban district of Helmand Province.
Beauchamp, 21, signed up for the Navy when he turned 17 and joined after graduating Weatherford High School in 2009. His older brother Christopher, 27, and younger sister Cheyenne, 19, also serve in the Navy. "He had a knack for making everyone around him better," his father, Jack Beauchamp, told the Fort Worth Star-Telegram.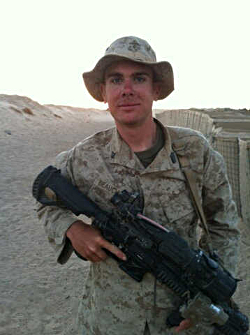 Beauchamp (pictured at right) was assigned to the 1st Battalion, 1st Marine Regiment, Regimental Combat Team 6, 1st Marine Division (Forward), I Marine Expeditionary Force (Forward), Camp Pendleton, Calif.
The rest of the casualties:
Army 1st Sgt. Russell R. Bell, 37, of Tyler, Texas, died in the same IED blast that killed Sitton. They were assigned to the 1st Battalion, 508th Parachute Infantry Regiment, 4th Brigade Combat Team, 82nd Airborne Division, Fort Bragg, N.C.
Marine Cpl. Daniel L. Linnabary II, 23, of Hubert, N.C., died Aug. 6 during combat in Helmand province. He served in the 2nd Tank Battalion, 2nd Marine Division, II Marine Expeditionary Force, Camp Lejeune, N.C.
Army Spc. Ethan J. Martin, 22, of Lewiston, Idaho, was killed Aug. 7 by enemy small-arms fire in Koragay. He was assigned to 1st Squadron, 40th Cavalry Regiment, 4th Brigade Combat Team (Airborne), 25th Infantry Division, Joint Base Elmendorf-Richardson, Alaska.
Air Force Maj. Walter D. Gray, 38, of Conyers, Ga., died Aug. 8 of injuries suffered during a suicide bomb attack in Kunar province. Gray was part of the 13th Air Support Operations Squadron, Fort Carson, Colo.
Army Maj. Thomas E. Kennedy, 35, of West Point, N.Y., and Command Sgt. Maj. Kevin J. Griffin, 45, of Laramie, Wyo., died Aug. 8 in Kunar province when a suicide bomber detonated an explosive vest. Kennedy and Griffin were assigned to Headquarters and Headquarters Company, 4th Brigade Combat Team, 4th Infantry Division, Fort Carson, Colo.
Army Master Sgt. Gregory R. Trent, 38, of Norton, Mass., died Aug. 8 in Bethesda, Md., from wounds suffered eight days earlier in Baktabad when enemy forces attacked his unit with small-arms fire. He was part of the 4th Battalion, 3rd Special Forces Group (Airborne), Fort Bragg, N.C.
As of Wednesday, 1,941 members of the U.S. military have died in Afghanistan as a result of the U.S.-led invasion in 2001, according to Associated Press.
Add a Comment
All comments are moderated before publication. These HTML tags are permitted: <p>, <b>, <i>, <a>, and <blockquote>. This site is protected by reCAPTCHA (for which the Google Privacy Policy and Terms of Service apply).