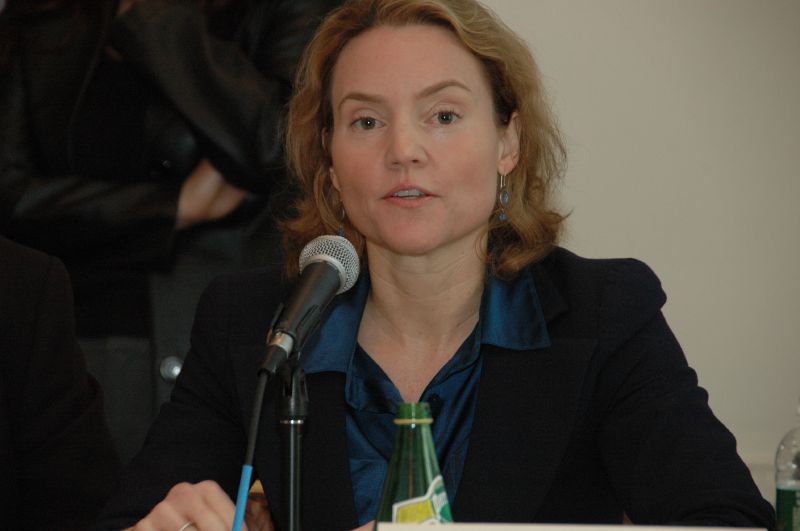 There's a dreadful sexist commentary on Forbes magazine today by Eric Jackson that suggests early Java executive Kim Polese caused herself to be wildly overhyped and the same mistake could be happening today to Facebook chief operating officer Sheryl Sandberg.
Under a headline that dubs each woman a Silicon Valley "It Girl," Jackson makes comparisons between the two women that all relate to gender, aside from flimsy observations that "they both like(d) magazine covers and editorial spreads" and "they both get (got) ranked on different arbitrarily created rankings of important people/power lists by business publications."
Making matters worse, he doesn't know his '90s dot-com history.
I was following Java closely in 1997 as I cowrote my first edition of Teach Yourself Java in 21 Days.
Polese wasn't a poor choice for Time magazine's 25 most influential people that year. The Java language had exploded in popularity since being included in the Netscape Navigator browser two years earlier. Polese and three core members of the team that created Java at Sun Microsystems, Arthur van Hoff, Jonathan Payne and Sami Shaio, all left together to start Marimba. It was widely viewed as the first hot startup to build on the technology, which was as big in Silicon Valley then as social networking is today. Polese had named Java, served as its product manager and became one of its best-known evangelists.
If you're a list-making journalist looking for somebody associated with Java to be the face of the trend, Polese was one of the top choices.
"History doesn't remember Kim Polese so well," Jackson claims, but Polese led Marimba to its public offering in 1999 and profitability. In 2004, the company was sold to BMC Software for $239 million. Though that's not as successful as people expected it to be in the heady days of the launch, it wasn't a flop. Any software startup that rode out the dot-com bust and sold for nine figures afterwards was doing something right.
Jackson writes that her next venture, SpikeSource, "seems to have quickly gone out of business." The company launched in 2003, Polese became the CEO a year later and it was in business for six years as an open-source infrastructure developer before folding.
So that she doesn't end up a sad "cautionary tale" like Polese, Sandberg should get back to her job and stop accepting so many awards and magazine covers, Jackson advises:
Maybe you should tone down the public appearances for a while and just keep your head down at Facebook. That doesn't mean do no public appearances or keep your light beneath a bushel. It just means to keep a balance more between the internal job and external stuff. There will always be some new Fortune Magazine cover to do, or award for being the most powerful woman executive in the world to accept.
(Any Facebook exec who thinks magazine covers will "always" be there should call the people running MySpace -- if their phones still work.)
Eric Jackson is a cautionary tale on how not to write about women in tech. Since publishing the commentary, he has deleted a line about how Sandburg's husband is "super-smart to boot" and another telling her to "just keep your head down at Facebook" -- without noting the edits were made. People are lining up on Facebook and Twitter to work him over.
The same year Polese made the Time 25, I taught myself Java and applied for a job at Marimba.
I'm still waiting to hear back.
Related links:
Kim Polese's response: Stop Comparing Female Execs and Just Let Sheryl Sandberg Do Her Job
Credit: The photo of Kim Polese was taken by Dan Farber and is available under a Creative Commons license.
Comments
Quick note on some of the, ahem, quirkier editing decisions that have been made on this article, for people who aren't following this live:

The line "her husband's super-smart to boot" under her list of accomplishments, and a comment by Eric Jackson for Sandberg to "keep her head down", have both been removed from the article without a peep. Great editorial oversight and all that.
It's funny lines keep vanishing. I added a paragraph about them to this post.
FYI, Eric Jackson has a follow-up:

"Apology to Sheryl Sandberg and Kim Polese [Updated]"

I updated this post with Jackson's apology to Polese.
Add a Comment
All comments are moderated before publication. These HTML tags are permitted: <p>, <b>, <i>, <a>, and <blockquote>. This site is protected by reCAPTCHA (for which the Google Privacy Policy and Terms of Service apply).