Coroner: Andrew Breitbart Died of Heart Failure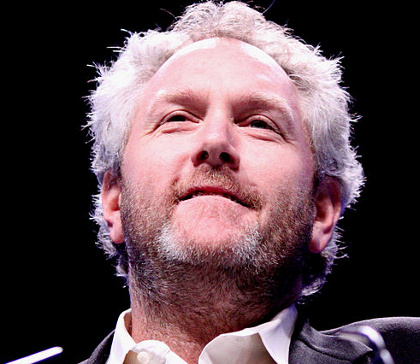 Conservative media activist Andrew Breitbart died March 1 of "heart failure and hypertrophic cardiomyopathy with focal coronary atherosclerosis," the Los Angeles Coroner's Office revealed Friday afternoon.
"No prescription or illicit drugs were detected," the office announced in a press release.
Breitbart had spent two hours that evening at the Brentwood Restaurant in LA's Brentwood district and had drunk some alcohol but "he wasn't drinking excessively," Arthur Sando, a marketing executive he met there for the first time that night, said in an account to Hollywood Reporter.
The coroner's office said Breitbart's blood alcohol content was .04 percent.
He was pronounced dead at UCLA Medical Center at 12:19 a.m. March 1 after being seen by witnesses collapsing on a public street. Media reports have conflicted about where Breitbart was when he was stricken.
After leaving the restaurant sometime around 11:30 p.m. on Feb. 29, Breitbart crossed the street and fell down in front of the Starbucks coffee shop in the vicinity of 148 S. Barrington Avenue.
Paul Huebl, a detective and former Chicago police officer, wrote on his crime news blog March 2 that he went to the scene and interviewed an eyewitness who had seen Breitbart collapse. The man, Christopher Lasseter, told him he was walking his dog after midnight when he saw Breitbart cross the street. Huebl wrote, "Once Breitbart stepped up on the curb, as Lasseter put it, 'He fell hard like a sack of potatoes.'"
Huebl wrote that he sold video of his interview with Lasseter to TMZ.Com. The photos he published on his blog match the location confirmed by the coroner's office as the place that Breitbart collapsed.
"I know Christopher was actually there because I asked him to describe Breitbart's clothing and he did so accurately down to his Converse tennis shoes," Huebl told me Friday in an email. "Christopher did not seem to know who Breitbart was other than that he was somebody who seemed important because of the media attention."
Though Huebl and others have speculated that Breitbart could have been murdered, the coroner's office dismissed the notion. "No significant trauma was present and foul play is not suspected," it stated in the press release.
A final coroner's report will be available within two weeks.
Developing ...
Comments
å½"社の商å"ã¯çµ¶å¯¾ã®è‡ªä¿¡ãŒå¾¡åº§ã"ます。ã"安心購 ルイヴィトン 入くださいませ å½"åº -- は今すでに3つの第一.ã''やり遂ã'まだ-- た 第1時 ヴィトン 財布 é–"は出荷だ-- ます 商å"ã®å"è³ªç¬¬ä¸€ 取引先の満足度の第一.国際速é"郵 ルイヴィトン バッグ 便発送、高å"è³ªã€ã"安心購入くださいませ。hj04-25
Erectile dysfunction is characterized by the inability to develop or maintain an erection of the penis sufficient for satisfactory sexual performance. It is indicated when an erection is consistently difficult or impossible to produce, despite arousal.
However, the lack of proper sex education has led to the proliferation of various "sexual myths", which has led many men to mistakenly believe that they have ED or their case might be hopeless. Thus, in most cases of ED there is always the strong possibility that myths and misunderstandings are contributory factors.
Fildena 200
You can buy Vidalista 20 online on Generic Meds Australia. It's not possible to buy this medication without a prescription. You must consult a doctor if you have any underlying conditions. You must also read the manufacturer's label carefully to ensure that you are getting the right medication. It's important to get professional medical help in case you're suffering from erectile dysfunction
Erectile Dysfunction Cenforce 120 can be a humiliating and alarming circumstance for any man to encounter.
Erectile dysfunction can be caused by a range of physical and psychological factors.
ED pills:
tadalista 10
malegra 100
Suhagra 100
The ED pills Lovegra and Malegra symptoms are a signal for something to be addressed. Counseling can help men discover their bodies and the areas of their lives that need the most attention. Once these issues are addressed, a man may regain erectile function. Counseling can also help men deal with the mental and emotional issues that have impacted their sexual lives.
Add a Comment
These HTML tags are permitted: <p>, <b>, <i>, <a>, and <blockquote>. A comment may not include more than three links. This site is protected by reCAPTCHA (for which the Google Privacy Policy and Terms of Service apply).