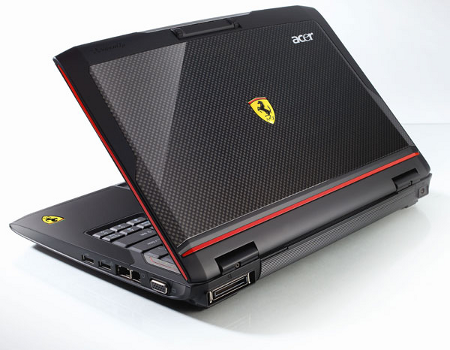 "We have a traditional understanding of journalism with the exception of TechCrunch." -- AOL chief executive officer Tim Armstrong
Around five years ago, Microsoft fueled a controversy by giving $4,000 Acer Ferrari 1000 laptop computers running Windows Vista Ultimate to some popular tech bloggers. A lot of bloggers -- particularly those who did not receive incredibly overpriced luxury branded laptops -- raised such a ruckus that Microsoft eventually asked for them back. Bloggers who wouldn't give them up were encouraged to hold a contest giveaway.
I was reminded of this controversy when I read TechCrunch writer M.G. Siegler's post this morning about how the news site's impartiality would not be affected by TechCrunch founder Mike Arrington actively investing in companies they report on:
The notion that Mike, or anyone else, investing in a company would dictate some sort of giant conflicted agenda is laughable. Literally. If Mike tried to get me to write some unreasonable post about a company he had invested in, I would laugh at him. But he would never do that. Ask Loic Le Meur. Ask Kevin Rose. Ask Shervin Pishevar. Ask Airbnb. Ask countless others. He didn't get to where he is by being an idiot. ...

The magic at TechCrunch happens because the writers have very little oversight. Instead, the emphasis is placed on hiring the right writers in the first place and putting them through a trial-by-fire to see who emerges. Those that have, my peers, are the best at what they do.
Siegler's defense is exactly the same as those Ferrari bloggers. Every journalist knows she is personally capable of rising above conflicts of interest to report without fear or favor. Getting to do it on a $4,000 laptop tricked out like a midlife crisis sports car is all the sweeter.
But let's say Arrington's new investment fund bankrolls Heello, the Twitter clone that 300,000 people were fascinated by for exactly 12 minutes last month.
Let's say Siegler thinks Heello belongs in the TechCrunch deadpool.
Will he report that story with the same enthusiasm he would give another startup that isn't fattened by Arrington's filthy lucre? There are far more lousy startups out there than Siegler has time to cover. It would be easy to make Heello a story he didn't quite get around to writing. The way a story gets reported isn't the only place journalistic bias rears its head. There's also the decision about whether to cover something at all.
Even if those fire-tested TechCrunch writers give impartial coverage to Arrington's ventures and all of their direct competitors, there's another way his investments bite them in the ass.
People will be too cynical to believe in that impartiality.
If you accepted that laptop from Microsoft in 2006, for the rest of time you face a choice every time you write about the company: You can disclose that gift again or risk having a snarky bastard in the comments make it sound like you intentionally covered it up.
Siegler now faces the same disclosure issue over and over again, and he didn't even get a laptop.
Add a Comment
All comments are moderated before publication. These HTML tags are permitted: <p>, <b>, <i>, <a>, and <blockquote>. This site is protected by reCAPTCHA (for which the Google Privacy Policy and Terms of Service apply).