On a recent trip to the local Barnes & Noble, I was surprised to see Russell Baker's Growing Up in the autobiography section. The book came out 26 years ago and Baker has faded from the public spotlight since his retirement in 1998 from the New York Times, where he was a popular columnist. I picked the book up, figuring it must be a pretty good memoir to have outlasted the author's fame, and noticed a week later that the bookstore had already reordered a copy.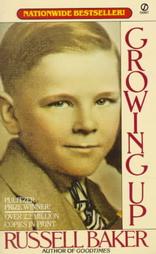 Baker's book is a great memoir. He tells the story of his childhood growing up in the Depression, which takes him from a rural Virginia shack without electricity or running water to stark poverty in Belleville, New Jersey; and Baltimore, where his widowed mother must rely on the charity of family members to feed the family. Baker, born in 1925, frames the story with his 84-year-old mother's lapse into dementia at a nursing home, which has untethered her from the present and drops her into random points in her life. One day he comes to see her and is met with the question "where's Russell?" In her mind, she'd become a young mother again with a three-year-old boy and a younger sister. Russell's father, who she met when his car broke down leaving the local moonshine distillery, had not yet died in his early thirties from diabetes because insulin wasn't available.
Although the specifics of Baker's childhood are often grim, he writes with a sense of humor about himself that reminded me of Jean Shepherd's narration in the movie A Christmas Story. This is particularly true when he describes how his lack of aptitude for anything else led him to journalism. "The only thing I was fit for was to be a writer," he writes, "and this notion rested solely on my suspicion that I would never be fit for real work, and that writing didn't require any."
Baker's modesty about his own abilities is misplaced. He writes well, telling the human cost of the Depression through the lives of his relatives. He focuses in particular on his mother and her diminishment of opportunities. A college-educated schoolteacher, she remains jobless for years and can't fulfill her dream of putting the family in their own home until he's almost in college. The Bakers are so poor that at one point she gives up her third child, still an infant, to be raised by childless relatives.
Baker's mother ends up living through her children, leaning hard on Russell to make something of himself and putting him to work on the streets selling the Saturday Evening Post when he's just eight years old. She's so miserly about affection and praise that by the end of the book, I needed a hug. Unfortunately, the story ends with Russell as a newlywed who has not yet made anything of himself as a journalist, so there's never the cathartic third-act moment where the mother makes clear that her sacrifices on behalf of her only son were worth it. That bummed me out.
Although he's retired from the Times and a second gig hosting PBS' Masterpiece Theatre, Baker still writes occasionally for New York Review of Books.
Add a Comment
All comments are moderated before publication. These HTML tags are permitted: <p>, <b>, <i>, <a>, and <blockquote>. This site is protected by reCAPTCHA (for which the Google Privacy Policy and Terms of Service apply).