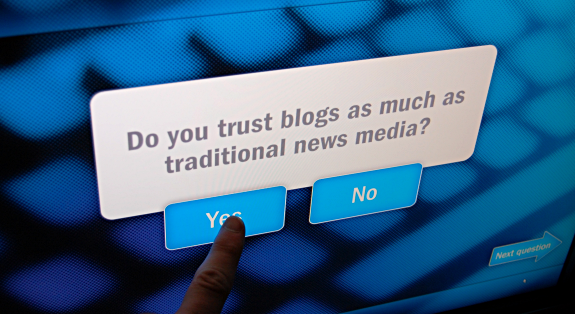 While on a trip to Washington D.C. last weekend I made my first visit to the Newseum, the museum of journalism that moved to Pennsylvania Avenue in 2008 after an extensive $450 million upgrade. The museum's $20 ticket is a lot when you can walk across the street to visit the Smithsonian for free, but as a J-school grad I spent around five hours engrossed in the six-story facility. Highlights include an emotional Pulitzer Prize photography exhibit, an exhibit on the Berlin Wall that features several sections of the wall alongside an actual East German sniper tower, and a 9/11 exhibit that includes the crumpled World Trade Center antenna. I didn't realize that it had survived the collapse.
One wall of the 9/11 exhibit displays dozens of newspaper front pages covering the attack. Headline writers had a hard time capturing the enormity of the event in the few words permitted by a ginormous font. The Boston Globe declared it a "New Day of Infamy," the Indianapolis Star called it a "Day of Death," and the San Francisco Examiner offered the lamest attempt of them all, the one-word exclamation "Bastards!"
I was curious to learn how the Newseum treated the touchy subjects of blogs and Matt Drudge, neither of which were likely to get much love from a place created by pro journalists to celebrate their own awesomeness. The picture atop this post was from a survey you could take. The next question was, "Do you read a news blog every day?" After I answered in the affirmative to both questions, I think I heard USA Today publisher Al Neuharth quietly weeping in an adjoining room.
The only bloggers I saw mentioned in the Newseum were Mayhill Fowler and Mary Katharine Ham on a wall about the 2008 presidential campaign:
A Blogger Scoops Big Media

Bloggers became a major force in campaign 2008. Mayhill Fowler, who blogs for the Huffington Post's "citizen-powered" Off the Bus web site, broke two stories during the campaign that sent reporters scrambling to catch up. Though critics panned her unconventional methods, her stories rocketed through the mainstream media. She captured Democratic nominee Barack Obama on tape saying that some "bitter" working-class voters "cling to guns or religion." She also taped Bill Clinton crudely insulting a reporter, sparking a backlash against Hillary Clinton's campaign. "Politicians need to learn that anyone can break news, and citizens who run into you ... can post it anywhere," said blogger Mary Katherine Ham.
The Newseum misspelled Ham's name and T.S. "Elliot" when quoting him in a film. There was no exhibit honoring the work of copy editors.
Blogs also were described in a recent-event timeline:
The Internet Explodes

Web logs, a new form of personal journalism, began to cover everything from computer programming to politics. Now known as "blogs," the constantly updated sites -- with links to other sites -- bypassed the traditional news media and gave individuals direct access to millions of Internet users. This cartoon (right) reflected the Web's growing popularity.
Let me be the first to express outrage at the glaring lack of credit for Dave Winer in that paragraph. The guy invented everything in those sentences except for popularity.
As for Matt Drudge, he got some love for stealing the Monica Lewinsky scoop that Newsweek spiked in January 1998, which "helped shift the balance between 'old media' and 'new media.'" I refuse to transcribe any more because Drudge's continued importance to the contemporary history of journalism crushes my spirit.
The Newseum has a TV studio where you can report a news story and watch the video. Because it has been too long since anyone asked me to be on television -- 1,398 days, 8 hours, 22 minutes and 18 seconds as of this post -- I paid $7 to shoot a story and take home the commemorative photo.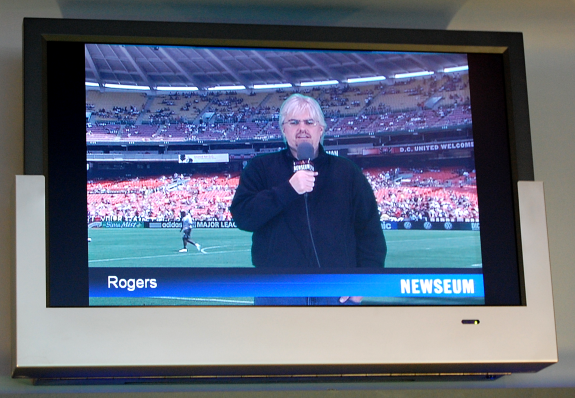 For Newseum Network News, I broke the exclusive that D.C. United was about to start a new soccer season. You're given around six seconds to vamp at the end before sending it back to network. My story, which you can see on the web, was way better than the one produced by the 10-year-old girl in the adjacent studio. Watch closely as I remain cool under pressure even though an errant ball nearly clobbers me.
This was the first time I ever used a Teleprompter, which completely removes the need to think about the words you are saying. I now know what I want for Christmas.
Comments
Maybe if instead of charging $20 for admission to the Newseum... newspapers had charged readers $20 a year to access news stories online, they wouldn't all be going out of business now.
What flavor is a gray ice cream cone and why would you eat one on camera?
Thanks for the pics.
Missed a "sneak peak" at the Newseum when my son suddenly took sick. Plan on taking the family since my wife works in D.C. and has a discount.
As to your entry - the headline you quote by the San Francisco Examiner made me think of the South Park character who responds to "They've killed Kenny!"
-Sam
I trust blogger more...
Good day! Thx for your great post and Im thinking about how to introduce my ugg boots to you cos Im not sure if u like this. Many people who live in the cold area like the ugg boots, especially the north-europe.
$20 sounds kind of steep to me, but I admit it's a pretty cool gig they have set up. Do a lot of people actually do it? Independent news blogs can be both good and bad. Mostly good, as you don't have to worry about the corporate guys making things come across how they want them to. It's pure, simple, and real. You don't have to hand over blood tests and a kidney in order to get news out these days.
I love to read personal news blogs. You never know what you're going to come across. You can be sitting there peacefully quilting and reading stories as you go from site to site and stumble across something that you wouldn't have found anywhere else. Great conversation starters!
Add a Comment
All comments are moderated before publication. These HTML tags are permitted: <p>, <b>, <i>, <a>, and <blockquote>. This site is protected by reCAPTCHA (for which the Google Privacy Policy and Terms of Service apply).