I don't read many thrillers, but I asked to review David Morrell's The Spy Who Came for Christmas after it was advertised recently on the Drudge Retort. I'm a sucker for holidaymas-themed books and films, and the title got my attention with its evocation of John le Carre's The Spy Who Came in from the Cold.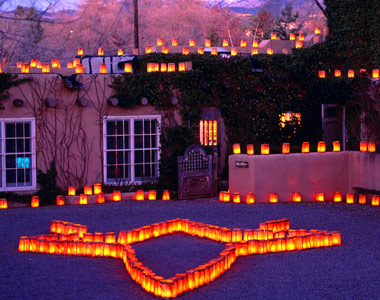 Morrell, a prolific thriller author who created Rambo in 1972's First Blood, centers his new book on Kagan, an American spy who has committed an escalating serious of heinous acts while working undercover with Russian mobsters in the U.S. When he's tasked with kidnapping the newborn son of an inspirational Palestinean leader to derail Middle East peace, he flees with the child into the crowd of celebrants on Santa Fe's Canyon Road during the annual art walk on Christmas Eve, ending up in the home of a woman who's packing her bags after being punched by her alcoholic husband. Together, the spy, the woman, her 12-year-old son and the infant "child of peace" -- as he's grandiosely described -- hunker down and prepare for a siege as three mobsters and the husband lurk outside.
The plot's tense and engaging, but the novel's told through so much dialogue it feels like it would rather be a screenplay (six of Morrell's books have been made into films). While waiting for the mobsters he betrayed to storm the house and take back the infant, Kagan entertains the family with his theory that the three Wise Men, the Magi, were actually Persian spies trying to destabilize King Herod's government in Israel with false tales of a savior:
"The Magi were so convincing that Herod didn't realize who his true enemies were. They became what intelligent experts call double agents: spies pretending to work for one side when they're actually working for the other. ... But something remarkable happened in Bethlehem, something that changed everything. ... They began to believe that the disinformation they'd given Herod was in fact the truth."
Though Kagan's Christmas story is rationalized as an effort to keep the family from freaking out, by the end of the book it's clear he's an incorrigible blabbermouth, an amusing trait to find in a battle-scarred intelligence operative.
Morrell's back-of-book bio makes him sound like a figure out of his own novels:
[H]e is a graduate of the National Outdoor Leadership School for wilderness survival as well as the G. Gordon Liddy Academy of Corporate Security. ... He has been trained in firearms, hostage negotiation, assuming identities, executive protection and offensive/defensive driving, among numerous other action skills ...
The best part about The Spy Who Came for Christmas is Morrell's choice of setting, which makes a holiday vacation to Santa Fe sound like a pretty good idea, once all the spies and terrorists have cleared out.
Credit: The photo of Santa Fe's Canyon Road was taken by CelebrateGreatness and is available under a Creative Commons license.
Comments
Just fyi, a holiday vacation in Santa Fe is splendid, if you can afford it. Just gorgeous. Santa Fe is that any time, really, but especially under a blanket of snow and lit by all those candles.
Add a Comment
All comments are moderated before publication. These HTML tags are permitted: <p>, <b>, <i>, <a>, and <blockquote>. This site is protected by reCAPTCHA (for which the Google Privacy Policy and Terms of Service apply).