Most Expensive Magazine Subscription Ever
I subscribe to Pyramid, a roleplaying game magazine published for the past 15 years by Steve Jackson Games. The company keeps track of past orders so you can redownload issues in PDF format. I found a surprise when I checked my subscription today.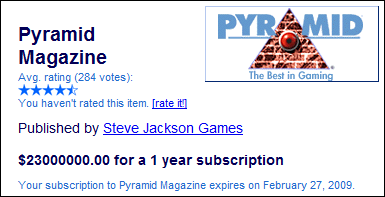 That's probably a bit more than I should have spent, but the deduction will make it a lot easier to pay my 2008 taxes.
Add a Comment
All comments are moderated before publication. These HTML tags are permitted: <p>, <b>, <i>, <a>, and <blockquote>. This site is protected by reCAPTCHA (for which the Google Privacy Policy and Terms of Service apply).