So many awful things happen to Roseanne McNulty, the protagonist of Sebastian Barry's Booker-shortlisted novel The Secret Scripture, that at a certain point I couldn't help but look forward to more of them. McNulty's a century-old Irish woman who has been living at a mental hospital for so long that nobody can remember why she was sent there in the first place. A staff psychiatrist, Dr. Grene, undertakes an investigation to determine whether she had genuine mental problems or was institutionalized for "moral" reasons.
As her hospital and home for 50 years is being prepared for demolition, Roseanne tells her life story in longhand, hiding the pages under a floorboard. These passages alternate with the psychiatrist's "commonplace book," his observations from the ongoing investigation.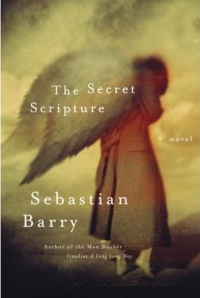 McNulty grows up Protestant among the Catholics of Sligo on Ireland's northwestern coast, raised by a gravedigger father and a mother he brought home from Southhampton, England. The family becomes caught in the Irish civil war in the early '20s, her father demoted to rat-catcher by the local Catholic priest after he asks him to give last rites to a rebel. Roseanne's mind obscures the worst of her life's tragedies by changing the details, as we learn later, but the ones she relates clearly are grim enough, as when her cherished father accidentally burns down an orphanage and kills 123 girls. Taking his demotion with aplomb, her father had devised his own method of dispatching rats: Dip each in paraffin, kill it with a conk on the head, then drop it into a fire. (It says a lot about Roseanne's childhood that she enjoys tagging along with her father on these jobs.) Unfortunately, step 2 really should follow step 1, as they discover when a paraffin-drenched rat escapes and scurries back into the orphanage, climbs down a chimney and catches fire. Father and daughter keep this mistake a secret between themselves.
The Catholic priest Father Gaunt is enormously cruel, dispensing moral decrees with absolute certainty to terrible effect in the life of Roseanne, whom he loathes for (a) being so beautiful she's a "mournful temptation" to the men of Sligo, and (b) refusing to convert when she weds a Catholic. After she's seen with another man in a suspicious but innocent circumstance, Gaunt succesfully pursues the annulment of her marraige with the Vatican, then icily relates the news:
If you had followed my advice, Roseanne, some years ago, and put your faith in the true religion, if you had behaved with the beautiful decorum of a Catholic wife, you would not be facing these difficulties. But I do appreciate that you are not entirely responsible. Nymphomania is of course by definition a madness.
More terrible things happen to Roseanne, of course, as likeable a long-suffering protagonist as Father Gaunt is despicable. Barry tells a larger story about Irish strife and the fallibility of history as filtered through human memory, but I don't know enough about Ireland to appreciate it fully. Though The Secret Scripture features two great characters and evocative writing, I'm surprised it rates the Booker shortlist and has become the betting favorite to win. The book's as melodramatic as a romance novel, though it's long on corpses, rats and dementia and short on heaving bodices.
Comments
this sounds like a spellbinding book! I will put it on my list of books to read! Thanks for the review!
Thank you for the review; I will definitely not read this book.
This book is an allegory for what is still happening in Ireland today under Minister for Health Mary Harney's watch. Both men and women are being warehoused in mental institutions because the Government won't provide the necessary facilities to ease them back into the community. Amoral lawyers grow fat on others' misery and the judiciary is complicit in maintaining the status quo under the Mental Health Act of 2001. These are clear breaches of human rights. Psychiatrists have no independance in the Republic of Ireland and continue to detain patients who should be released back into the community.

Well Done Sebastian Barry for being a real man in exposing your country's medieval ways.
Add a Comment
All comments are moderated before publication. These HTML tags are permitted: <p>, <b>, <i>, <a>, and <blockquote>. This site is protected by reCAPTCHA (for which the Google Privacy Policy and Terms of Service apply).