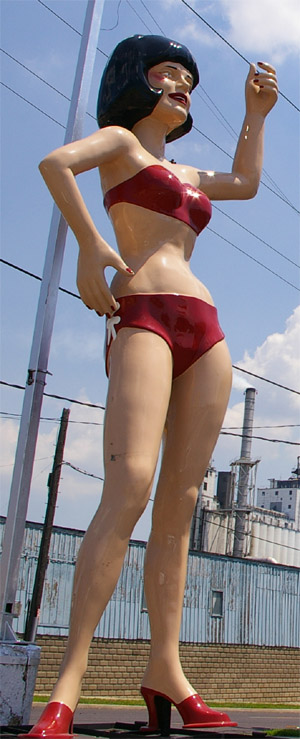 I was pleased to discover this morning that the giant fiberglass bikini woman still stands tall in Peoria, Ill., lording over a grimy industrial strip where I first saw her on a bitterly cold day in 1996.
Travis Alber's photo best captures the scene.
The tire company she calls home has named her Vanna Whitewall, but she began life as one of several Miss Uniroyal women in 1968. Her description on the company's web site provides her dimensions (though they might want to check the math):
Manufactured in the 1960s in Venice, California, "Miss Uniroyal" arrived at our location in May of 1968 as a grand opening promotion. She was stored at our location until Uniroyal needed her at another grand opening. Due to the years of wear and tear on her body, Uniroyal decided to change to their present mascot, Bengal "Tiger Paws" Tiger. Plaza Tire acquired Vanna Whitewall in 1971. She is 17 feet 6 inches tall and weighs approximately 450 lbs. Her measurements are 108-72-108, three times the perfect woman's (36-24-26).
There are at least 11 others of her kind, according to Roadside America:
The sculptor who created the original molds for the large lady had a thing for Jackie Kennedy. She was issued with a dress, ready for shedding or donning depending on the community climate.
From the looks of a more recent photo by another Flickr user who is traveling the country in search of huge beings, Vanna's now wearing a dress. I'm surprised at the change, because she's been a beacon of immodesty at the family-owned tire business for decades.
The Huge Being List Project, is attempting to document all of the gargantuan fiberglass people in the U.S. I'm going to find out if there's still a Uniroyal woman beckoning the drivers on Highway 50 in Ocoee, Florida.
Comments
And just what is it about those giant inflated apes outside car dealerships that compels me to pull in and trade my jalopy for some new chrome? Mesmerizing.
A giant fiberglass alligator (about 20 feet tall, as I remember it) stood at the old Gatorland on U.S. 1, north of St. Augustine, just before the airport. He was smoking a big fat cigar. When he was removed after the place closed, I wondered what happened to him. I thought that rather than having him destroyed, surely the owners would have sold him to another gator attraction. Maybe someone among your readership knows where he is.

The first job I ever had was feeding all the animals there, including the alligators and crocodiles. I had to walk over the croc pens on 2x6 boards slung from wall to wall. I was chased by gators more than once. Supposedly a gator can outrun a human for a short distance, but they never caught me. Amazing what adrenaline can do. I think Tadowe needs some.
I remember seeing that lady when I was 5 years old, riding down Chef Menteur Highway in New Orleans.

Ahh, for the good ole days....
Awesome!
The one in Peoria still is wearing a bikini
They usually put the dress on her during the late fall / early winter, and take it off again in the spring.
Unfortunately the lady on Highway 50 in Ocoee florida is not there. She vanished about 4 years ago.
omg
The lady in Ocoee Florida is no longer there. I work in Winter Garden and drive through Ocoee every day. I do remember her being here about 20 years ago, but she has been gone for quite a few years.

The Huge Being List Project has gone offline, so I updated the link to the Internet Archive.
Add a Comment
All comments are moderated before publication. These HTML tags are permitted: <p>, <b>, <i>, <a>, and <blockquote>. This site is protected by reCAPTCHA (for which the Google Privacy Policy and Terms of Service apply).