This book was published in March 1997 and is out of print, but this site is being kept online for anyone still using it with Java 1.1. It does not cover subsequent versions of the software.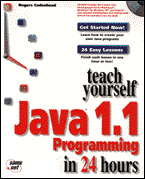 Welcome to the Web page for my book Sams' Teach Yourself Java 1.1 Programming in 24 Hours. This programming tutorial is a great way to learn Java from the grounds up. It's for non-programmers, new programmers who hated learning it, and experienced programmers who want to quickly get up to speed. The emphasis is on hands-on experience and fun projects.
Anyone can learn how to write computer programs -- even if they can't program a VCR -- and the Java language is a great way to do it.
As the author of the book and someone with seven hungry mouths to feed at home (if you count a cat, and two Chia Pets), I hope you'll take a look through this site. Please stay long enough until our subliminal advertising convinces you to purchase the book at its full retail price.
Most recent additions to this site:
The online tutorial Using the Java Development Kit on a Windows System has been updated to cover Windows XP, 2000, and NT in addition to other Windows versions (July 26, 2002)
A new reader question has been answered: Should I use Java 1.1 or go straight to Java 2? (July 26, 2002)
Additions to the link status page, which updates Web addresses used in the book. (March 6, 2001)
The book's source code, which is included on the CD, is now available here for download. (Aug. 13, 2000)
As promised in Appendix C, here's one link related to the Dallas Stars, offered solely because of the author's newfound love of professional hockey: The Unofficial Darryl Sydor Page