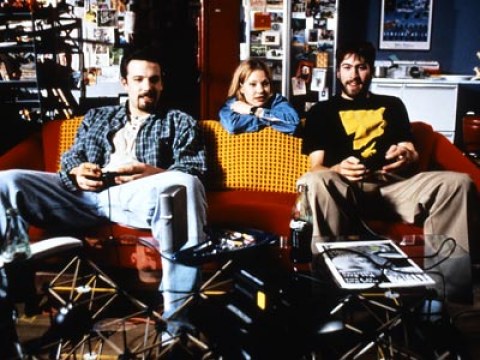 As a comic book fan I've been meaning to see Kevin Smith's films for years. I finally got started over the weekend with Chasing Amy, his 1997 romantic comedy starring Ben Affleck, Joey Lauren Adams and Jason Lee. The movie's entertaining, but I couldn't buy the premise at all.
Affleck plays Holden, a whitebread comic book artist who falls in love with another artist named Alyssa (Adams), despite the fact that she's a lesbian. Though Holden's best friend Banky (Lee) explains to him the utter futility of hoping to convert her, he tries anyway.
And succeeds.
The movie's told almost completely from the male perspective, depicting guys from Jersey who are often so gleefully misogynistic outside of mixed company you wonder how they get anyone to go out with them. Smith's iconic characters Jay and Silent Bob make one appearance, where Jay not-so-helpfully tells Holden, "Forget her, dude. There's one bitch in the world, one with many faces." Alyssa only gets one scene with her lesbian friends where she tells them she's joined the other team. There's not enough shown in the film to explain why she'd renounce her sexual identity for Holden, a guy so inexperienced that when he meets Alyssa the mechanics of lesbian sex have to be explained to him. (Didn't he have cable?)
Despite all that, I thought Chasing Amy was odd enough to be charming. Smith's got a great feel for dialogue and Lee is terrific as the obnoxious best friend. I just think the movie should have given lesbianism a fighting chance.