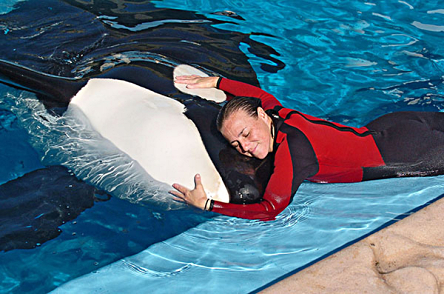 Dawn Brancheau, a 40-year-old trainer at SeaWorld in Orlando, was killed today by a killer whale at the beginning of a performance. Eyewitness accounts differ, but she was reportedly dragged into the water, shaken violently and kept underwater until she drowned. The whale, Tilikum, is the largest in captivity and has been involved in two fatal incidents prior to this one. In 1999, a park visitor hid at SeaWorld until closing and jumped into the pool with the whale. The man was found dead in the pool the next morning and had suffered hypothermia and scrapes from being dragged along the pool's bottom. Eight years earlier, Tilikum was one of three whales who drowned Keltie Byrne, a 21-year-old trainer, at Sealand of the Pacific, after she slipped and fell into the pool.
The PBS series Frontline did an story on the issue of killer whale trainer safety in 1995, A Whale of a Business. The web site for the story includes a chapter from the 1992 book The Performing Orca: Why the Show Must Stop by Erich Hoyt.
The chapter makes interesting reading in light of today's events, since it focuses strongly on Byrne's death. Hoyt accuses SeaWorld of covering up training injuries and disregarding evidence that killer whales don't like to be ridden:
... it was all too late for Keltie Byrne. Her parents have decided so far not to sue Sealand, preferring to put the tragedy behind them. The jury at the public inquest was unable to agree on the real cause of Byrne's death, beyond drowning. Why did orcas, which had never killed a trainer in marine parks or in the wild despite thousands of encounters, suddenly kill a human? Was it "an accident waiting to happen," if not at Sealand, then at Sea World or almost any park, especially one where basic safety procedures are overlooked? ...

In September 1991, Sealand owner Bob Wright put the three orcas up for sale. But what marine park wants to take three orcas that killed their trainer? Even before Sealand announced the whales were for sale, Sea World was preparing an application to NMFS to import them.
Hoyt has a web site and remains active on the issue of using killer whales in performances. I asked him a few questions and here's what he told me in email:
I think that this is an awful tragedy for the trainer and her family. But that it is avoidable: orcas do not belong in captivity. What I worry about is that things will be focussed on Tilikum, that he is an older male, and his history of having been involved in the death of two other people. Sea World or others may try to say that it is this one older male whale's fault. There are quite a number of other accidents that could well have been fatal that were caused by other captive orcas, females and males, although they do tend to be animals that have been in the parks for awhile. As I reported in The Performing Orca and also in some detail in Orca: The Whale Called Killer, trainers have noted that orcas start to get bored and go a bit crazy after a few years in captivity. You must imagine a highly intelligent social mammal and a big predator normally travelling 100 kms or more a day, then taken from its family, stripped of its ability to socialize normally, to hunt and to travel. What it has left is its relationship to the trainer, but how long can that really keep them interested? It is not surprising that an animal starved of company and stimulation will pull a trainer into the water, or try to keep them in the pool...even to the point of drowning them. Very sad, but again, we know how to correct this situation. Orcas are too big, too social, too wild to be kept in captivity.
The picture of Dawn Brancheau ran Dec. 30, 2005, in the Orlando Sentinel.