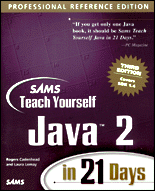 Welcome to the Web page for the book Teach Yourself Java 2 in 21 Days Professional Reference Edition, Third Edition by Rogers Cadenhead and Laura Lemay. The book teaches Java 2 programming to beginners and experienced programmers, with an emphasis on how Java is being used today in new areas such as Java servlets, XML-RPC Web services, and XML processing.
Features
Use these links for information related to a specific day in the book:
What's New
Most recent additions to this site:
Day 23: Use JSP to view JSP source code (12-09-2003)
Day 23: JavaServer Pages examples are back online. (12-09-2003)
Day 22: The chapter's example servlets are back online. (12-09-2003)
Day 7: Correction to two code examples on page 192. (02-12-2003)
Day 20: The world20 database used in this chapter is available in a ZIP archive. (02-04-2003)
Day 19: Help resolving a Bean Development Kit problem on Windows XP. (02-04-2003)
This site was launched (02-04-2003).
You also can keep up with this site by subscribing to its RSS feed with a RSS reader such as Radio Userland or AmphetaDesk. Users of these programs can click the following links to subscribe to the feed: