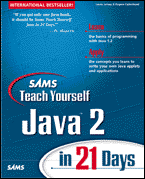 Welcome to the World Wide Web site for the book Teach Yourself Java 2 in 21 Days by Laura Lemay and Rogers Cadenhead. This site is frequently updated in response to reader mail.
Important Note: This book was retitled Sams' Teach Yourself Java 2 in 21 Days shortly after the first printing. The reason for the change was Sun's last-minute decision to give JDK 1.2 the official name ``Java 2 SDK (version 1.2).''
The following options are available:
The links below enable you to get the source code and resource files associated with each chapter. You also can find the most current corrections, clarifications, and reader-submitted questions about that material. Be sure to check it out when you have questions -- the answer may already be there.
Right off the bat, readers should be aware of two important issues:
Use these links for information related to a specific day in the book:
Most recent additions to this site: