This book was published in August 1997 and is out of print, but this site is being kept online for anyone still using it with the Claris Home Page software included on the book's CD. It does not cover subsequent versions of the software.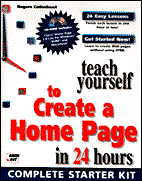 At the rate the World Wide Web is growing, there will be a home page for every man, woman, and child on Earth by next Tuesday.
Actually, in the time it took you to read the previous paragraph, we had to revise the estimate forward half a day to Monday afternoon.
Sams' Teach Yourself to Create a Home Page in 24 Hours makes it possible for you design World Wide Web pages without learning any complicated programming languages.
With the book, you'll learn quickly how to develop your own home page and other Web pages using a version of the popular Claris Home Page 2.0 software that's included on the book's CD-ROM.
The following Web sites were created by readers of the book: