ROGERS CADENHEAD
My Websites
My Books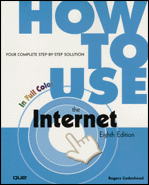 Welcome to the Web page for the book How to Use the Internet, Eighth Edition by Rogers Cadenhead. This book is a visual, full-color, step-by-step guide to the Internet's most popular features: the World Wide Web, e-mail, online shopping, audio, America Online, weblog publishing, and more.
Features
Use these links for information related to a specific chapter in the book:
What's New
Most recent additions to this site:
This site was launched (09-24-2002).
You also can keep up with this site by subscribing to its RSS feed with a RSS reader such as Radio Userland or AmphetaDesk. Users of these programs can click the following links to subscribe to the feed: