Seeing is Believing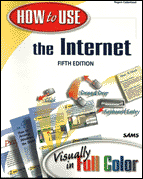 Welcome to the official Web site for the book How to Use the Internet, Fifth Edition by Rogers Cadenhead.
This book is a visual, full-color, step-by-step guide to the Internet's most popular features: the World Wide Web, e-mail, online shopping, audio, America Online, and more.
How to Use the Internet helps people explore the Internet capabilities of their Windows 95 and Windows 98 systems -- no new software is required. Everything is shown exactly as it appears on the computer, and the text is brief, informative, and helpful.
Everyone knows a relative, friend, or coworker who should be using the Internet but hasn't gotten around to learning how it works. How to Use the Internet, now in its fifth edition from Macmillan Computer Publishing, is an excellent place to start.
Features