Dear Students, My Job is to Kill Your Dreams
When the novelist Kelly Braffet was in high school, she had the worst English teacher of all time:
One day, Mrs. Smith told us to write about what we wanted to be when we grew up. I wrote about wanting to be a writer. I wrote about how I'd loved books as long as I could remember and was never happier than when I was deeply immersed in a story. I probably added something about wanting to win the Pulitzer by 25 and the Nobel by 30, because that was the kind of obnoxious kid I was. I didn't really know anything about either except that winning them would be good, but I was young, and I had big dreams. That's what being young is about.

When this paper was returned, she'd written the following: "I used to want to write mysteries, but as I grew older, I realized it wasn't possible. Eventually you'll find a more realistic goal."
Mrs. Smith was the wind above her wings.
At the Annual Dancers' Ball ...
I'm making a second attempt to read The Marriage Plot, a novel by Jeffrey Eugenides about a book-obsessed English major at Brown University in the early '80s. The protagonist, Madeleine Hanna, is given this logic puzzle in a GRE test prep guide:
At the annual dancers' ball a number of dancers performed their favorite dance with their favorite partners.

Alan danced the tango, while Becky watched the waltz. James and Charlotte were fantastic together. Keith was magnificent during his foxtrot and Simon excelled at the rumba. Jessica danced with Alan. But Laura did not dance with Simon.

Can you determine who danced with whom and which dance they each enjoyed?
Frederik Pohl Remembers Jack Vance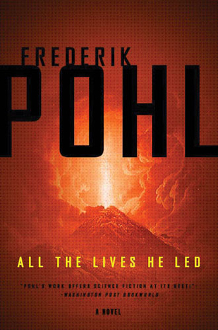 Frederik Pohl, one of the founders of science fiction, is still writing novels at age 93 and has a blog he updates regularly. The Way the Future Blogs recently noted the death of another legend of the genre, Jack Vance. Pohl recalls being editor of Galaxy magazine in the early '60s when a Vance manuscript came in:
... "I've got a new story from Jack Vance that I love. It's called The Dragon Masters, and it's about a race of dragon-like creatures from a distant planet who are at war with the human race. The dragons have captured some humans and the humans have captured some dragons and they both have genetically modified their captives to fight for them. Altogether there are around a dozen modified races, and I want a portrait of each, plus anything else you want to draw. I think Hugos will rain for this, so come get the ms."
I'm an avid reader of Pohl's blog. I recently read All the Lives He Led, his 2011 novel, and would like to say good things -- but it was a mess. There's some fun in Pohl describing a world so nihilistic in 2079 that acts of terrorism are committed daily by ridiculously silly groups, but his main character is a passive dolt who makes a series of dumb decisions.
At one point, after he's escaped police forces under a cloud of suspicion and smuggled himself by airship from Pompei, Italy, to Egypt, over the course of several chapters, he just turns himself back in. The protagonist's so inconsequential to the events of the novel that the last third consists of him watching video of what other people did and telling you what he sees.
Review: 'Kiss of the Spider Woman'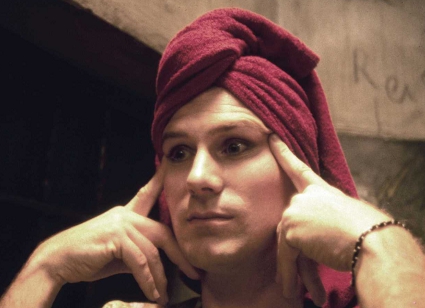 I just finished reading Kiss of the Spider Woman, the 1976 Manuel Puig novel that became a terrific 1985 film. William Hurt won an Oscar playing Molina, a gay window dresser sharing a prison cell with Valentin, a straight Marxist revolutionary played by Raul Julia. To pass the time, Molina retells his favorite movies to Valentin.
The book held my interest but was difficult to read because of the experimental fiction techniques used by Puig. Most of the book is told through dialogue between the two men but the identity of the current speaker is never provided. Instead, an em-dash marks where a new person has begun to talk, as in this passage:
--She goes to the kitchen and makes toast with butter, and that crunchy cereal they have up there, and ...

--Don't talk about food.

--And pancakes ...

--Really, I'm serious about it. No food and no naked girls.

--Okay, so she wakes him up and he's happy to see her so comfortable in his home and he asks her if she wants to stay and live there forever.
You're never told who the speakers are. Instead, you learn gradually about the two men and the reasons for their imprisonment. The majority of the dialogue is devoted to Molina retelling movies at great length, but Valentin interrupts and the men occasionally talk about themselves. The funniest parts of the book are where the super-serious Marxist gives running commentary on films that would never appeal to him, each a tragic romance with a glorious leading lady in fabulous attire.
The rest of the novel consist of official transcripts of conversations between Molina and the warden, surveillance reports on one of the men after his release, weird academic footnotes regarding the psychology of homosexuality and an awesome stream of consciousness that goes on for six pages without a single verb:
--a European woman, a bright woman, a beautiful woman, an educated woman, a woman with a knowledge of international politics, a woman with a knowledge of Marxism, a woman with whom it isn't necessary to explain it all from A to Z, a woman who knows how to stimulate a man's thinking with an intelligent question, a woman of unbribable integrity, a woman of impeccable taste, a woman of discreet but elegant dress ... a woman who understands the problems of a Latin American, a European woman who admires a Latin American revolutionary ...
The passage reminded me of a song by the alternative band Cake: "I want a girl with a short skirt and a long jacket."
The Good, Bad and Ugly of Joe McGinniss
I've had a mixed history with author Joe McGinniss. His true-crime book Cruel Doubt was a laughably bad attempt to blame Dungeons & Dragons for a 1988 murder. His soccer book The Miracle of Castel di Sangro may be the best sports book I've ever read.
McGinniss has a biography of Sarah Palin coming out in the fall. I was looking forward to it, since his move-next-door stunt reminds me of funny things he did in Castel di Sangro. But I'm looking forward to it less after reading this paragraph from his Palin book, which he shared on his blog:
Sarah Palin practices politics as lap dance, and we're the suckers who pay the price. Members of our jaded national press corps eagerly stuff hundred dollar bills into her g-string, even as they wink at one another to show that they don't take her seriously.
That's a lot of sexist awfulness packed into 45 words.
Two Science Fiction Novels I Didn't Finish
I hit a bad streak reading novels this month. My house is overflowing with books I've been meaning to read, so I will give up on a novel when I've abandoned all hope of being entertained. I figure if I'm not enjoying a book after 50 to 75 pages, it's time to bail. I reached that point with Wilson Tucker's The Year of the Quiet Sun (1970) and Philip K. Dick's The Divine Invasion (1981).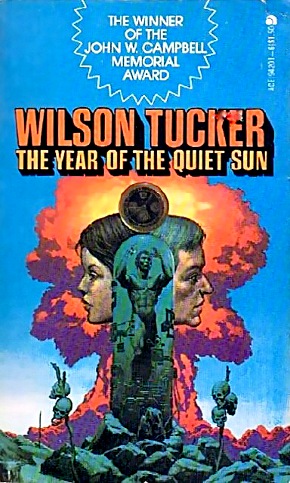 Quiet Sun is a Nebula Award-nominated time-travel novel by the late Wilson "Bob" Tucker. He was an active science fiction fan who belonged to the Fantasy Amateur Press Association (FAPA) and coined the term "space opera."
As a current member of FAPA and a time-travel geek I wanted to like the book, but after 70 pages Tucker was still putting the main characters together. Nothing had happened yet. No time travel. No plot twists. Just talk talk talk. The male protagonists pass the time pontificating about their fields of study and making moves on the young female bureaucrat who recruited them. She's in her 20s and the prospective time travelers are an older scholar and two military officers. Their constant attempts to flirt with her may have been standard operating procedure in the free-love-and-sideburn '70s, but Tucker never shows her reciprocate anyone's interest -- so it feels like actionable sexual harassment.
Wikipedia's synopsis of the novel reveals that the time-traveling Don Drapers go to the future and find a U.S. embroiled in race war: "Moresby goes first and travels to July 4, 1999 ... only to emerge in the middle of a racial civil war in which Chicago had recently been attacked with a nuclear bomb launched from China on behalf of black guerrillas." I might have stuck with the novel if I knew it was fueled by early '70s fear of a black planet.
I hadn't read anything by Philip K. Dick before trying Divine Invasion. The book's about a virgin conception on a remote industrial planet. The savior fetus Emmanuel is the son of Yahweh, and he needs to return to Earth to take the planet back from the devil Belial, who has been running things since the fall of Masada in the first century AD. Belial controls Earth through a one-world government that's a "unification of the Communist Party and the Catholic Church."
This is odd enough to catch my interest, but Dick's plot feels like an excuse to engage in ponderous theological ruminations on God, the Bible and the Torah. Here's an example:
Emmanuel watched, and presently the cat came to him and asked to speak to him. He lifted it up and held it in his arms and the cat placed its paw against his face. With its paw it told him that mice were annoying and a bother and yet the cat did not wish to see an end of mice because, as annoying as they were, still there was something about them that was fascinating, more fascinating than annoying; and so the cat sought out mice, although the cat did not respect the mice. The cat wanted there to be mice and yet the cat despised mice.

All this the cat communicated by means of its paw against the boy's cheek.
I usually struggle with this kind of pass-the-bong storytelling. Give me literal fiction with relatable characters. I have an allergy to allegory.
Review: 'Tinkers' by Paul Harding
This year's Pulitzer Prize-winning novel, Tinkers by Paul Harding, is one of the best I've read in years. The slim 191-page book is about the last eight days of dying clock repairman George Washington Crosby, whose hallucinating mind wanders across time in his final hours, stopping at disordered points in his life and that of his father.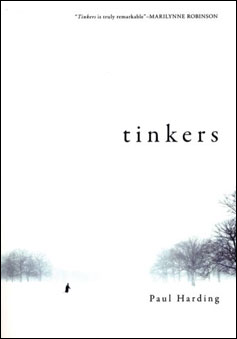 The first novel by Harding, Tinkers was rejected by numerous publishers and sat in a drawer for several years before it found a home at Bellevue Literary Press, an obscure non-profit publisher based in New York's Bellevue Hospital. It's the first book from a small press to win the Pulitzer since John Kennedy Toole's A Confederacy of Dunces in 1981.
I don't often like awardbait -- difficult literary novels with spare plots seemingly tailored for award consideration -- but the language of Tinkers is as exquisite as a T.S. Eliot poem. Harding is at his most evocative when describing the workings of an antique clock or the natural wonder of the New England countryside, yet the entire book is written with an tinkerer's eye towards the world. There may never be a more eyebrow-curling description of halitosis than when George's father Howard pulls the tooth of a suffering hermit who buys from his tinker's wagon: "A breeze caught the hermit's breath and Howard gasped and saw visions of slaughter-houses and dead pets under porches." When George witnesses his father's epileptic seizure at the dinner table on Christmas Day, it's a perfectly described moment of absolute terror -- and you can see why he's taking it to the grave.
At times, Tinkers wanders into pure existential reverie, like these thoughts from George's father as he drags his wagon of goods from one rural homestead to another:
Your cold mornings are filled with the heartache about the fact that although we are not at ease in this world, it is all we have, that it is ours but that it is full of strife, so that all we can call our own is strife; but even that is better than nothing at all, isn't it? And as you split frost-laced wood with numb hands, rejoice that your uncertainty is God's will and His grace toward you and that that is beautiful, and part of a greater certainty, as your own father always said in his sermons to you at home. And as the ax bites into the wood, be comforted in the fact that the ache in your heart and the confusion in your soul means that you are still alive, still human, and still open to the beauty of the world, even though you have done nothing to deserve it. And when you resent the ache in your heart, remember: You will be dead and buried soon enough.
I wasn't sure about this novel until I was 50 pages in, and even briefly considered abandoning it for fare more light than an old man's deathbed vigil. The cumulative impact of passage after passage like the above convinced me that Tinkers was a masterwork that would be cherished for generations, like a centuries-old grandfather clock.
Related posts:
The New York Times, which did not review Tinkers, tells the story of its publication
Review: Russell Baker's 'Growing Up'
On a recent trip to the local Barnes & Noble, I was surprised to see Russell Baker's Growing Up in the autobiography section. The book came out 26 years ago and Baker has faded from the public spotlight since his retirement in 1998 from the New York Times, where he was a popular columnist. I picked the book up, figuring it must be a pretty good memoir to have outlasted the author's fame, and noticed a week later that the bookstore had already reordered a copy.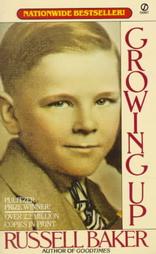 Baker's book is a great memoir. He tells the story of his childhood growing up in the Depression, which takes him from a rural Virginia shack without electricity or running water to stark poverty in Belleville, New Jersey; and Baltimore, where his widowed mother must rely on the charity of family members to feed the family. Baker, born in 1925, frames the story with his 84-year-old mother's lapse into dementia at a nursing home, which has untethered her from the present and drops her into random points in her life. One day he comes to see her and is met with the question "where's Russell?" In her mind, she'd become a young mother again with a three-year-old boy and a younger sister. Russell's father, who she met when his car broke down leaving the local moonshine distillery, had not yet died in his early thirties from diabetes because insulin wasn't available.
Although the specifics of Baker's childhood are often grim, he writes with a sense of humor about himself that reminded me of Jean Shepherd's narration in the movie A Christmas Story. This is particularly true when he describes how his lack of aptitude for anything else led him to journalism. "The only thing I was fit for was to be a writer," he writes, "and this notion rested solely on my suspicion that I would never be fit for real work, and that writing didn't require any."
Baker's modesty about his own abilities is misplaced. He writes well, telling the human cost of the Depression through the lives of his relatives. He focuses in particular on his mother and her diminishment of opportunities. A college-educated schoolteacher, she remains jobless for years and can't fulfill her dream of putting the family in their own home until he's almost in college. The Bakers are so poor that at one point she gives up her third child, still an infant, to be raised by childless relatives.
Baker's mother ends up living through her children, leaning hard on Russell to make something of himself and putting him to work on the streets selling the Saturday Evening Post when he's just eight years old. She's so miserly about affection and praise that by the end of the book, I needed a hug. Unfortunately, the story ends with Russell as a newlywed who has not yet made anything of himself as a journalist, so there's never the cathartic third-act moment where the mother makes clear that her sacrifices on behalf of her only son were worth it. That bummed me out.
Although he's retired from the Times and a second gig hosting PBS' Masterpiece Theatre, Baker still writes occasionally for New York Review of Books.
Annie Leibovitz May Lose Copyright to Photos
New York
magazine has an interesting story about how photographer Annie Leibovitz has made
such a disaster of her finances
that she may lose her homes and the copyright to all her work. She's made millions while accumulating millions more in debt. Here's one of the craziest anecdotes about her profligate spending:
When [her daughter] Sarah started eating solid food, a rigorous journaling policy was instituted, in which every bite and bowel movement was to be committed to an unlined black notebook purchased from the Swedish stationer Ordning & Reda. Kellum regularly ordered replacement books from Stockholm so that the journaling could easily continue from one book to another. Once, when an order got lost in customs, Leibovitz insisted on having two notebooks sent from Stockholm via a special type of courier service called "quicking." It was essentially like buying a seat for a parcel on the next plane. The shipping cost alone came to $800.
The cheapest black notebook I could find on Ordning & Reda's web site sells for around $23 dollars (169 Swedish kronar).
Rutgers Breaks World Waldo Record
Rutgers University has broken the world record for the largest gathering of Waldos.
Here's a funny photo of the crowd filling the theater. I hope the students remained in costume that evening for the world's largest drunken Waldo bacchanalia.
Review: 'The Spy Who Came for Christmas' by David Morrell
I don't read many thrillers, but I asked to review David Morrell's The Spy Who Came for Christmas after it was advertised recently on the Drudge Retort. I'm a sucker for holidaymas-themed books and films, and the title got my attention with its evocation of John le Carre's The Spy Who Came in from the Cold.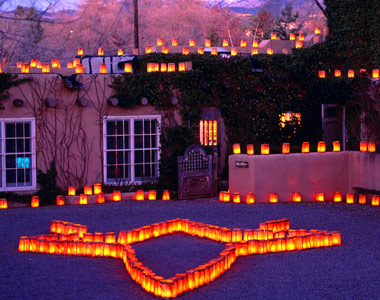 Morrell, a prolific thriller author who created Rambo in 1972's First Blood, centers his new book on Kagan, an American spy who has committed an escalating serious of heinous acts while working undercover with Russian mobsters in the U.S. When he's tasked with kidnapping the newborn son of an inspirational Palestinean leader to derail Middle East peace, he flees with the child into the crowd of celebrants on Santa Fe's Canyon Road during the annual art walk on Christmas Eve, ending up in the home of a woman who's packing her bags after being punched by her alcoholic husband. Together, the spy, the woman, her 12-year-old son and the infant "child of peace" -- as he's grandiosely described -- hunker down and prepare for a siege as three mobsters and the husband lurk outside.
The plot's tense and engaging, but the novel's told through so much dialogue it feels like it would rather be a screenplay (six of Morrell's books have been made into films). While waiting for the mobsters he betrayed to storm the house and take back the infant, Kagan entertains the family with his theory that the three Wise Men, the Magi, were actually Persian spies trying to destabilize King Herod's government in Israel with false tales of a savior:
"The Magi were so convincing that Herod didn't realize who his true enemies were. They became what intelligent experts call double agents: spies pretending to work for one side when they're actually working for the other. ... But something remarkable happened in Bethlehem, something that changed everything. ... They began to believe that the disinformation they'd given Herod was in fact the truth."
Though Kagan's Christmas story is rationalized as an effort to keep the family from freaking out, by the end of the book it's clear he's an incorrigible blabbermouth, an amusing trait to find in a battle-scarred intelligence operative.
Morrell's back-of-book bio makes him sound like a figure out of his own novels:
[H]e is a graduate of the National Outdoor Leadership School for wilderness survival as well as the G. Gordon Liddy Academy of Corporate Security. ... He has been trained in firearms, hostage negotiation, assuming identities, executive protection and offensive/defensive driving, among numerous other action skills ...
The best part about The Spy Who Came for Christmas is Morrell's choice of setting, which makes a holiday vacation to Santa Fe sound like a pretty good idea, once all the spies and terrorists have cleared out.
Credit: The photo of Santa Fe's Canyon Road was taken by CelebrateGreatness and is available under a Creative Commons license.
Cyber-Cowboy Post-Apocalyptic Kung Fu
I found a great "cyber-cowboy post-apocalyptic fu" music video on another blog this morning. Watch for the appearance of Col. Wilma Deering, the Planet of the Apes Statue of Liberty and the film crew in a mirror:
This video for Muse's "Knights of Cydonia" is the work of Joseph Kahn, a prolific music video director whose next project is a film based on William Gibson's Neuromancer. (Via Stan!.)
Aravind Adiga Wins Booker for 'The White Tiger'
The White Tiger by Aravind Adiga has won the 2008 Man Booker literary prize:
Adiga becomes the third debut novelist, and the second Indian debut novelist, to win the award in the forty year history of the prize. The two other debut novelists to have won the prize are DBC Pierre in 2003 for his novel Vernon God Little and Arundhati Roy in 1997 for The God of Small Things.

Aravind Adiga's winning novel The White Tiger is described as a "compelling, angry and darkly humorous" novel about a man's journey from Indian village life to entrepreneurial success.
The Booker awards 50,000 pounds (nearly $89,000) to the winner, making it the highest-paid fiction prize in the world. Adiga, 33, is the second-youngest writer to win in the Booker's 40-year history.
Review: 'Indignation' by Philip Roth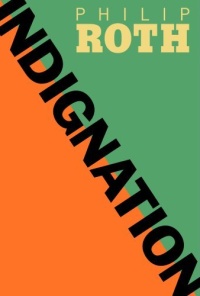 Philip Roth's Indignation describes the short unhappy life of Marcus Messner, a college student in the early '50s who is paranoid about getting kicked out of school and drafted to serve in the Korean War, in spite of the fact that his grades are so strong he could become valedictorian. Messner, the dutiful son of a kosher butcher in Newark, transfers from a local school to Winesburg College in Ohio, trying to escape an overprotective father who has become overwhelmed by fear that his son will die.
Messner's a mess, a bundle of unexpressed antisocial rage who can't get along with his roommates, rejects numerous invitations to socialize with classmates and can't seem to take joy from anything -- not even his first sexual relationship, which falls into his lap in a classmate's 1940 LaSalle Touring Sedan.
I've never read Roth before, but the way he writes sex in Indignation reminded me of the 40-Year-Old Virgin bluffing his way through a discussion of sexual conquest among male friends by talking about "bags of sand."
Sex figures heavily into Messner's story -- excruciatingly bad sex, both in execution and description. Anyone suffering from "prolonged excitation" can cure the problem by reading the sex scenes in this book.
Indignation picks up when it covers the rest of Messner's life, where his Bertrand Russell-inspired atheism causes him to rebel against the requirement that all Winesburg students attend chapel. A prolonged argument between Messner and the Dean of Men -- where Messner schools the dean on Russell's famous 1927 lecture "Why I Am Not a Christian" -- drives the remainder of the book towards a conclusion you know will be tragic for the student. I found the setting of Winesburg, which Roth copped from Sherwood Anderson's Winesburg, Ohio, a pleasant reminder of the way a college can be a world unto itself.
Unfortunately, just when you think the story's going somewhere, the small-page, big-font, 233-page book abruptly ends. Roth constructs a plot device in which he can stop Messner's story at any time, and he does, cutting it off before the crisis that leads Messner to leave school. He never justifies how the young man, who believes that leaving college means certain doom in Korea, throws away his academic career. He never shows you how Messner's father reacts to the thing he most feared, the notion that in life, "the tiniest misstep can have tragic consequences."
Instead, you get a seven-page wrap up zooming through all the events you missed because the book ended too soon. Talk about indignation.