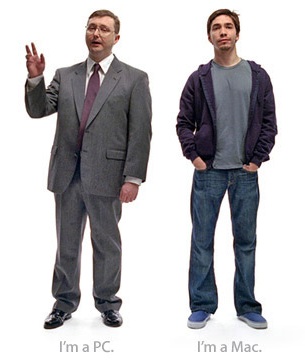 A few years ago, in one of Apple's last big marketing campaigns while Steve Jobs was alive, the company mocked Microsoft by having Justin Long portray a Mac and John Hodgman a PC in TV commercials. Long's comfortably scruffy dude in sneakers was supposed to be cool, while Hodgman's pudgy businessman was supposed to be a dork who couldn't quite catch up to the times.
I wrote in 2007 that the commercials were doing something for Microsoft it couldn't do for itself -- make the company lovable.
The Mac hipster played by Justin Long is insufferably smug compared to his problem-plagued comic foil, who ends up looking like a well-intentioned underdog unruffled by adversity. He's like Charlie Brown, falling over and over for Lucy's promise to let him kick the football. ... When I spot one of those commercials as I'm blipping through Tivo, I stop to see how Hodgman fares.
As my link shows, Hodgman wasn't rooting for himself either. The Daily Show contributor called his character "delusional" for believing he was cooler than a Mac.
In a piece for The Guardian about his new non-fiction book The Kraus Project, the author Jonathan Franzen reveals himself to be another person who hated Mac Dude:
Any chance that I might have switched to Apple was negated by the famous and long-running series of Apple ads aimed at persuading people like me to switch. The argument was eminently reasonable, but it was delivered by a personified Mac (played by the actor Justin Long) of such insufferable smugness that he made the miseries of Windows attractive by comparison. You wouldn't want to read a novel about the Mac: what would there be to say except that everything is groovy? Characters in novels need to have actual desires; and the character in the Apple ads who had desires was the PC, played by John Hodgman. His attempts to defend himself and to pass himself off as cool were funny, and he suffered, like a human being. (There were local versions of the ad around the world, with comedians David Mitchell and Robert Webb as the PC and Mac in the UK).