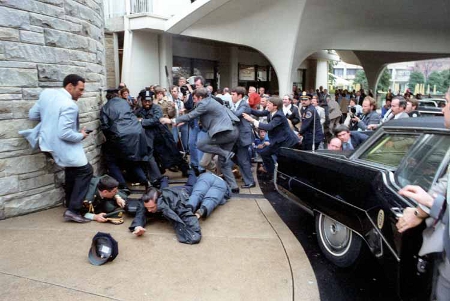 A reader to National Review Online says that he became a conservative because of how his fellow college students at Kent State University responded to President Reagan's shooting:
I came back to my dorm to see the TV lounges filled with students fervently wishing for the president not to survive the surgery. The worst of will was being expressed toward "Ronnie Ray-gun," to use just one of the epithets.

Right then, I knew that, whatever side I belonged on, it wasn't the one where people were wishing for the death of the democratically elected president. For the first time, I started to pay real attention to American politics, and to investigate what American conservatism really was.
I don't comment often on right-wing sites, but I made an exception here because conversion stories like this one always seem a bit ridiculous to me. I was 13 when Reagan was shot in March 1981 and vividly recall following the news at my grandmother's house after Frank Reynolds of ABC broke in with a bulletin during One Life to Live [1]. I deplore the sentiments of people who wanted the president to die.
But as I asked on NRO, does the reader not recognize the same irrational hatred directed at President Obama today on the right that was directed at Reagan back then on the left?
The nine responses I've received answer my question. None of them thinks Obama is hated today the way Reagan was hated back then. As one person stated, "Death wishes for political opponents is something that's almost entirely confined to the left."
I'm a save-the-abortion-rights-of-gay-whales liberal, but I would never make a statement as blinkered as that against conservatives. One of the most foolish things in politics is the belief that your side is reasonable and fair while the other side engages in all of the bad acts. There are numerous examples of Obama hatred today as rabid as the Reagan haters in college who converted the reader to conservatism. There will be plenty of jerks who wish death on the next elected president, too. These folks are easier to find today than in 1981 -- just read any newspaper's poorly policed comment section or the feedback on rabid political blogs.
Left vs. right isn't the only meaningful divide in our politics. There's also ragemonkeys vs. everybody else. If the formative moment in the establishment of your ideological beliefs is the time you heard repugnant things said about the current president, you're just as likely to have become a liberal as a conservative. It just depends on when you heard them.
1: If anyone knows what Brad Vernon told his sister Samantha about Asa Buchanan's late wife Olympia, let me know.