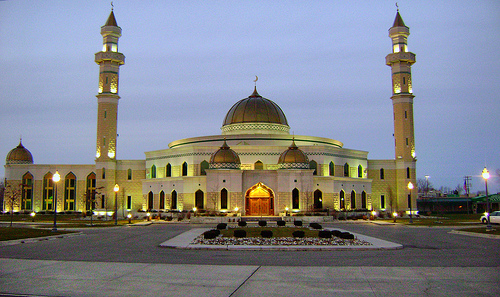 I am one of the 52 percent of Americans who believe that Muslims should be able to build mosques wherever any other people can build houses of worship.
That number should be 100 percent.
When I first heard about the mosque two blocks away from Ground Zero, I thought it was a non-issue. Two city blocks is a long distance. It's not a "Ground Zero Mosque" -- no one called the former tenant the Ground Zero Burlington Coat Factory. The strip club around the corner is not the Ground Zero Strip Club. The community and zoning authorities in Manhattan overwhemlingly approved the project and Faisal Abdul Rauf, the imam in charge of the project, is so respected that Presidents Bush and Obama have sent him to do outreach to international Muslims.
It has been extremely disheartening to watch anti-Muslim fervor sweep the country fed by Fox News, the New York Post and other right-wing media. The people who have fueled this controversy the most, such as the blogger Pamela Geller, are motivated by a fierce hatred of Muslims. They've been telling blatant falsehoods to stir outrage about the project, such as the untrue claim that it was scheduled to open on Sept. 11, 2011. (To give you an idea of Geller's credibility, this frequent Fox News guest has used her blog to spread the claim that President Obama's father is secretly Malcolm X.)
A lot of Republican politicians have opportunistically jumped into this issue, feeding off the media-generated outrage. To my great disappointment, a few Democrats such as Senate Majority Leader Harry Reid have joined them.
There are more than 1.1 billion Muslims in the world and perhaps as many as two million living in the U.S. They're neighbors, coworkers and friends. They serve in our government and in our military. They can be found among the dead on 9/11 and in our national cemeteries. The fact they've been able to worship freely here without interference has been a testament to this country's deep respect for religious freedom.
That may be changing.
The controversy over this mosque has inspired protests against other mosques around the U.S. and legitimized the idea that the U.S. is at war with Islam. In Sheboygan, Wisc., some Muslims who fled persecution elsewhere are afraid to worship here.
If you are one of the Americans who thinks Muslims are the enemy, you're giving Osama Bin Laden the propaganda victory he hoped to achieve with the 9/11 attacks.
Photo credit: The photo of a Detroit mosque was taken by Just Us 3 and is licensed for reuse.