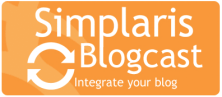 Over the past few months, I've gotten back into contact with more than a dozen old friends and coworkers through Facebook. After blogging for nine years, I prefer hanging out here on Workbench over social networking sites, but I'm beginning to feel like an anachronism. It's easier for people to keep up with their BFFs on sites like Facebook than to visit a bunch of personal blogs, even with the help of RSS and a feed reader. I recently began linking my posts on Facebook using Simplaris Blogcast, a Facebook application that posts the title and link of blog posts to your Facebook profile. You can manually post items from your blog, pull them automatically from an RSS feed or ping Simplaris with each new post.
For reasons unknown, Simplaris Blogcast stopped pulling items automatically from my feed a month ago. To get automatic posts working again, I've updated my weblog ping library for PHP so that it can ping Blogcast each time I post on Workbench.
Blogcast uses the same ping protocol as Weblogs.Com. Before you can use the Weblog-Pinger library in a PHP script, you must add Blogcast to your Facebook account and retrieve your ping info, which includes a ping URL that includes a special ID unique to your account. In the example URL http://blogcast.simplaris.com/ping/0dd8dfad5c842b600091ba/, the ID is 0dd8dfad5c842b600091ba. You'll need this ID when sending a ping, as in this example code:
require_once('weblog_pinger.php');
$pinger = new Weblog_Pinger();
$pinger->ping_simplaris_blogcast($post_title, $post_link, "0dd8dfad5c842b600091ba");
Once Blogcast has successfully received a ping, the application setting Update Mode will have the Ping Automatic selection chosen.
The code's available under the open source GPL license. If it worked, this post will show up on my Facebook profile.