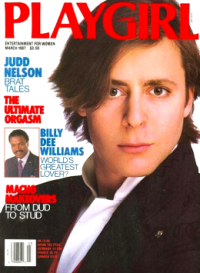 I don't spend enough time tackling the big questions on Workbench, so I'd like to rectify that today by addressing a subject of great import among those of us who came of age in the '80s: Are James Spader and Robert Downey Jr. part of the Brat Pack?
The term Brat Pack was coined by journalist David Blum in the June 10, 1985, issue of New York magazine. His cover story Hollywood's Brat Pack describes a world, now lost, in which attractive young women fought for the right to engage in consequence-free heterosexual coitus with Judd Nelson.
If Rob Lowe seemed to be inviting all too much attention from the girls, Judd Nelson acted as though he wanted nothing to do with it. His fame, too, helped attract them -- they recognized his tough-guy looks from his role as the wrong-way kid in The Breakfast Club and sought his attention. But as Alice sat down in an empty chair next to him, Judd Nelson announced to anyone within earshot, including Alice, "There is a line. When someone crosses the line, I get angry. And when someone sits down at the table, they have crossed the line. You can let them get close" -- he looked around at Alice and the swarm of girls -- "but you can't let them sit down." ...

Everyone in Hollywood differs over who belongs to the Brat Pack. That is because they are basing their decision on such trivial matters as whose movie is the biggest hit, whose star is rising and whose is falling, whose face is on the cover of Rolling Stone and whose isn't. And occasionally, some poor, misguided fool bases his judgment on whose talent is the greatest.
Only a fool would attempt to judge Brat Pack members on the basis of acting talent. The editors of the Pack's Wikipedia entry have spent a great deal of time defining eligibility for membership:
Appearance in one, or both, of the ensemble casts of John Hughes' The Breakfast Club and Joel Schumacher's St. Elmo's Fire is often cited as a prerequisite for being a core Brat Pack member.[10][11][12] With this criterion, the most commonly cited members include Emilio Estevez, Anthony Michael Hall, Rob Lowe, Andrew McCarthy, Demi Moore, Judd Nelson, Molly Ringwald and Ally Sheedy.[5][6][13][14][15][16] Conspicuously absent from most lists is Mare Winningham, the only principal member of either cast who never starred in any other films with any other cast mates.
When there are nine citations in just three sentences, you know that a major bloodbath has taken place behind the scenes at Wikipedia. The victorious editors, clambering over the corpses of their opponents with their cold, dead hands still clutching keyboards, have taken a conservative position on membership that relegates Spader and Downey to "close contributor" status. Jamie Currie, the web's preeminent Brat Pack scholar, also uses Wikipedia's eight members and consigns Downey and John Cusack to "Possibly Pack" status.
This is a crime against the '80s. I recently caught the tail end of Less Than Zero, a 1987 film I've seen in random order over the years while channel surfing and reassembled in my brain. That movie has everything we've come to associate with the great works of the Brat Pack: a lily white cast, self-absorbed young protagonists who yearn for more interesting personal problems, big haired women in shoulder pads and absolutely no awards for acting.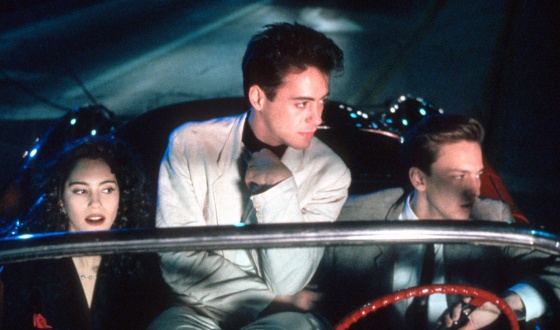 I take the liberal view of Brat Pack membership. If you've starred in at least two films with a lead actor from Breakfast Club or St. Elmo's Fire and you were younger than 30 at the time -- the Harry Dean Stanton exclusion -- you ran with the Pack.
James Spader starred with McCarthy and Ringwald in Pretty in Pink, McCarthy in Less Than Zero and Mannequin and Lowe in Bad Influence. Robert Downey Jr. starred with Hall in Weird Science and Johnny Be Good, Hall and Nelson in Hail Caesar and Ringwald in The Pick-Up Artist. He also starred with Spader in Tuff Turf and Less Than Zero, which counts once we've admitted Spader into the group.
The decision to admit these actors has far-reaching consequences that become clear when you spend too much time on IMDB's People Working Together search page.
The appearance of three or more Brat Pack members in a film grants it first-order status alongside Breakfast Club and St. Elmo's Fire, so Less Than Zero, Pretty in Pink and Hail Caesar also can bestow membership upon their stars.
Jami Gertz starred with Downey, McCarthy and Spader in Less Than Zero, Hall and Ringwald in Sixteen Candles and Spader in Endless Love. Count her in.
John Cusack starred with Gertz, Hall and Ringwald in Sixteen Candles, Lowe and McCarthy in Class, Spader in True Colors and Bob Roberts and Moore in One Crazy Summer. He's way, way in.
Gertz and Cusack bring Sixteen Candles and Class to first-order status.
Charlie Sheen starred with Cusack, Gertz, Hall and Ringwald in Sixteen Candles, Estevez and Nelson in Never on Tuesday, Estevez and Moore in Wisdom, Estevez in Young Guns and Men at Work, Cusack in Eight Men Out and Being Jon Malkovich and Spader in Wall Street. He's the mayor of in.
Because Sheen and Estevez are brothers who often work together, sometimes on films that no one outside their immediate family went to see, there's potential for chaos here. The first-order clause must be modified to exclude movies in which two of the three Brat Pack stars are siblings. (My apologies, John and Joan Cusack.)
So if you starred in at least two films with a lead actor from Breakfast Club, St. Elmo's Fire, Less Than Zero, Pretty in Pink, Hail Caesar, Sixteen Candles or Class, and you were younger than 30 at the time, and the film did not star two siblings with less than two otherwise eligible members, you belong to an imaginary group of middle-aged actors whose association will circumscribe your career until your dying day.
Oddly, I have yet to find a way to admit Kevin Bacon.
Coming soon on Workbench: Who's the better Darrin Stevens?
Judd Nelson forever!