Click the Environment Variables button. The Environment Variables dialog opens, as shown below.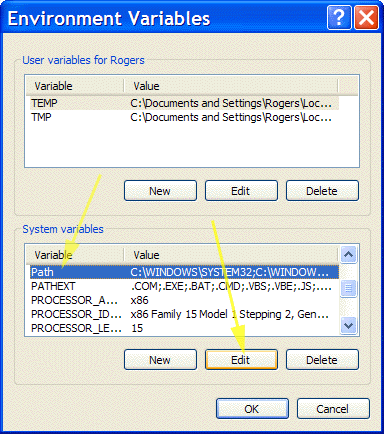 The System variables section contains variables that apply to all users on the computer. Scroll to the Path item, select it with the mouse and click the Edit button. The Edit System Variable dialog opens, as shown below.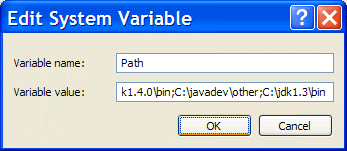 The Path variable contains a series of folder names separated by semi-colons. This variable is used to help Windows find programs when you run them at a command line.
Click your mouse in the Variable value text field and scroll to the end of the text.
To set up the Software Development Kit correctly, the folder that contains the Java interpreter must be included in the Path variable. The interpreter has the filename java.exe. If you installed the SDK in the C:\jdk1.3 folder on your system, java.exe is probably in C:\jdk1.3\bin.
If you can't remember where you installed the SDK, you can look for java.exe by clicking the Start button, choosing Find, and clicking Files or Folders or Start, Search. You may find several copies in different folders. To see which one is correct, open an MS-DOS Prompt window and do the following for each copy of the program:
Use the CD command to open a folder that contains java.exe.
Run the command java -version in that folder.
When you know the correct folder, click your mouse in the Variable Value text field and scroll to the end of the text, then add a semi-colon followed by the folder where java.exe was installed.
For example, if c:\javajdk\bin is the correct folder, the following text should be added at the end of the Variable Value field: ;c:\javajdk\bin
After making this change, click OK to close the Edit System Variable dialog and click OK again to close the Environmental Variables dialog. Once this is done, open a command-line window and try the java -version command. If it works, your SDK may be configured correctly.
To see if it is, continue to the next page.